Carolina Irving & Daughters
The Story
A textile designer by trade, Carolina Irving has spent decades scouring the world for examples of extraordinary craftsmanship, finding it in archives, museum collections and tiny, off-the-beaten-track ateliers on her travels. Born to Venezuelan parents and raised in Paris, she studied Art History and Archaeology at the École du Louvre, where she began her lifelong fascination with design and the decorative arts. Carolina worked in magazines for several years before founding her eponymous textile atelier in 2006, creating vibrant fabrics that reinterpret colours and patterns from across the globe, and from throughout history.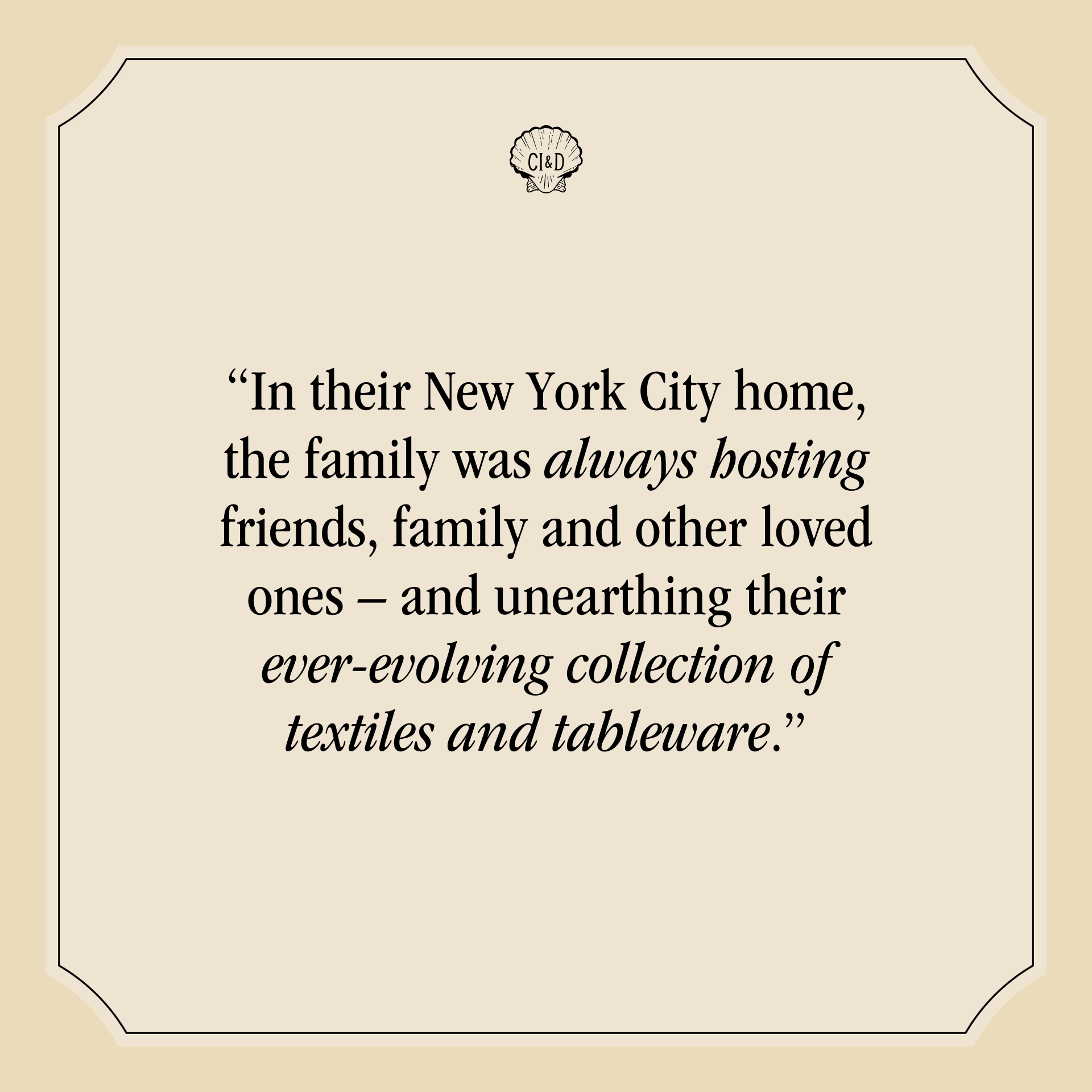 Carolina's daughters, Olympia and Ariadne – whose father is an art dealer - grew up surrounded by textiles, art, antiques and other collectible curiosities. Naturally, they inherited their mother's inclination to hunt for beautiful treasures. They travelled extensively together, learning about the trade routes which have shaped the history of culture, cultivating a meticulous attention to detail. In their New York City home, the family was always hosting friends, family and other loved ones – and unearthing their ever-evolving collection of linens and tableware.

Olympia and Ariadne's own interests led them to study Spanish and Film, and the History of Art, respectively, but their love of storied objects persisted. They always returned to the dining table and the memories they've shared around it – whether in London, where the sisters now share a home; in New York, where their father and childhood and family friends live; in Paris, where Carolina lives once again; or at their beach house in Melides, Portugal.

In 2018 the trio came together around the dining table once more to launch Carolina Irving & Daughters, a lifestyle brand which began with the tabletop, and soon expanded beyond it. Now, the three women work collaboratively, designing beautiful, purposeful objects, each one handmade by artisanal craftspeople to celebrate daily moments.